Unparalleled Landscape Installation Services From Paragon Landscaping,
the Main Line's Premier Landscaping Company
Paragon Landscaping Corporations is the preferred provider of premium landscaping services for discerning customers in Bryn Mawr, Pennsylvania and Philadelphia's Main Line. We specialize in high-end, large-scale landscape installations that blend sophistication with historic neighborhood charm. With Paragon, your landscape is shaped by the best minds and most skilled experts in the industry with exceptional results. Our highly educated landscapers have the in-depth horticultural knowledge and hands-on experience necessary to create beautiful landscapes that you can enjoy for years to come. 
Our comprehensive portfolio of landscape installation services includes: 
Site Excavation and Grading

Drainage and Irrigation Systems

Hardscapes

Plant and Large Tree Installation

Lawn and Turf Installation
At Paragon, we understand that landscape installation is a big investment, which is why we work to ensure that the process is as quick and convenient as possible. All of our uniformed landscape technicians are highly vetted, and rigorous background checks are performed throughout the hiring process. We time our workdays around your schedule, and the work area is thoroughly straightened at the end of each day. It's our goal to ensure that our projects are completed with the utmost speed and efficiency, with minimal interruption of your day-to-day routine.
Benefits of Working
With Paragon Landscaping
When you choose Paragon Landscaping Corporation, you gain the experience of Pennsylvania's most respected landscaping specialists. For more than two decades, we have been committed to providing sophisticated landscape installation services for our customers in Bryn Mawr, PA and Philadelphia's historic Main Line neighborhoods. Our knowledgeable landscapers have comprehensive horticultural knowledge, as well as hands-on experience with the climate, soil, and native plant life that will make your installation look well-established and flawless from day one.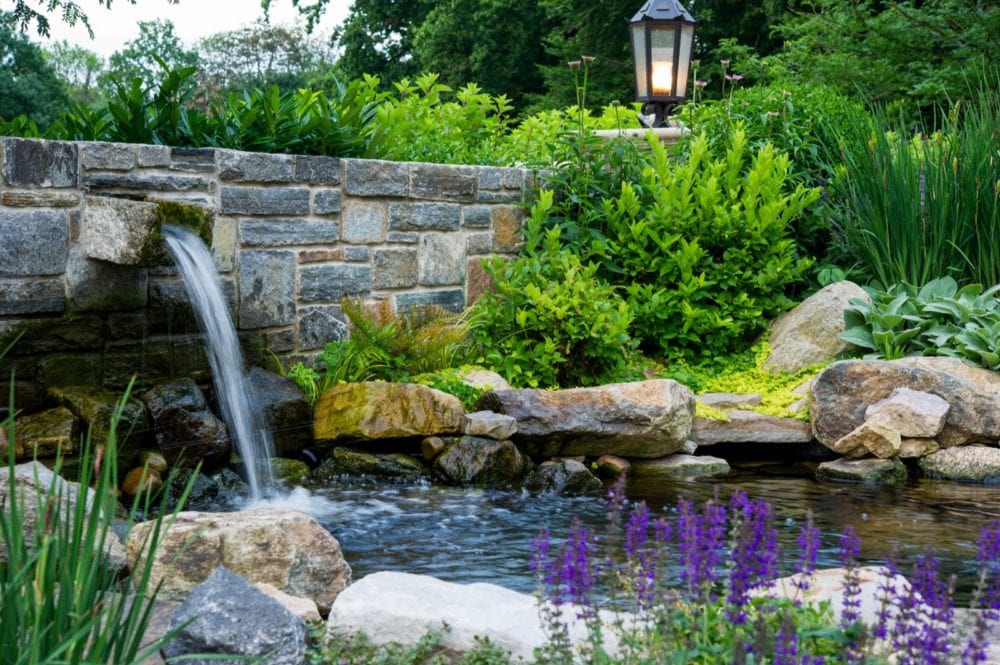 Paragon's landscape installation services offer numerous benefits, including:
View More of Paragon's Gorgeous Landscape Installations
Dependable Landscape Installation Services for Bryn Mawr, PA and the Main Line
Paragon Landscaping Corporation offers expert landscaping installation services with minimal disturbance. Our landscape design and installation services are easy to arrange. Simply meet with us to establish the project parameters, and we'll do the rest!
To arrange a landscape installation or renovation with Paragon, follow these easy steps:
Call us or visit our website to schedule an on-site visit.
Our representative will meet you at your home to discuss your landscape service needs.
We will provide a comprehensive landscape service proposal.
Our contract includes an in-depth explanation of services with associated costs.
We can start work on your landscape immediately.
At Paragon, we understand that our clients prefer simple and straightforward contracts, without unneeded complexity. We provide clear, comprehensive installation estimates without any hidden information or add-ons. Most importantly, we maintain open lines of communication with our clients and our on-site team, so that our customers are always in the loop. To get started with your new landscape maintenance plan, contact us today!
Our Selection of
Additional Landscaping Services
Paragon provides a full range of landscaping services for our clients in Villanova and other Main Line neighborhoods.
To learn more about Paragon's wide range of professional landscape services, feel free to contact us.
Bryn Mawr, Pennsylvania's Favored Landscape Installation Provider
Paragon is pleased to offer exceptional landscaping services to our loyal customers in Bryn Mawr, Pennsylvania and Philadelphia's Main Line.
Our extensive service area includes the following neighborhoods:
Bala Cynwyd, PA
Merion, PA
Narberth, PA
Penn Valley, PA
Wynnewood, PA
Devon, PA
Berwyn, PA
Paoli, PA
We are dedicated to the development of exceptional quality landscaping design, installation, and maintenance for clients throughout our service area. To learn more about Paragon's extensive selection of landscaping services, visit our services page.
Build a Fulfilling
Landscaping Career
Paragon is a proud provider of comprehensive landscape services, and we are always looking to add new landscaping professionals to our team. If you have experience in landscaping and are motivated to succeed, we want to work with you! Take a look at our career page for current career opportunities. We look forward to hearing from you!
"Paragon was phenomenal to work with. They were very respectful of our time, their crews were clean, quick and did a beautiful job. Paragon's landscape maintenance services are the best on the Main Line."
— J. Smith