Charming Seasonal Planters & Enhancements
for Your Villanova, PA Home
Enjoy the changing seasons with uniquely tailored seasonal planters and enhancements to keep your Villanova, Pennsylvania property looking fresh and vibrant all year round. Paragon Landscaping will work with you to create tasteful and elegant seasonal displays. Our extensive empirical knowledge of local landscaping allows us to fashion fresh and unique designs using a wide variety of seasonal plants for your landscape beds and containers. We provide spring flowers and bulbs, colorful summer plantings, warm fall combinations, charming winter evergreen arrangements and holiday displays for your enjoyment.
Paragon's seasonal enhancements can incorporate numerous styles and designs, including landscape beds, small pots, troughs, window boxes, Versailles boxes, large outdoor planters, and even Green Walls. We source only the highest quality material, for fresh and resilient four-season combinations. Seasonal enhancements can be refreshed and replaced as often as you like on a pre-arranged schedule. With our seasonal enhancement services, you can be sure that your property will always exhibit effortless elegance.
Creative & Elegant
Landscape Enhancements From Paragon
Paragon understands the value of a polished and elegantly appointed landscape. We are dedicated to creating unique enhancements to complement your existing landscape features. Our highly trained staff will ensure quick and meticulous installation of your seasonal enhancements, so you can enjoy your property without any hassle. We work around your schedule to ensure that all landscaping work is completed with minimal interruption in our clients' day to day lives.
At Paragon, professionalism is paramount. To maintain a professional demeanor, our staff are provided with company-issued uniforms and clean, new trucks to transport our highly organized equipment. Work is completed quickly and efficiently using top of the line landscaping equipment. In addition, all of our employees undergo thorough background checks, to ensure our clients' safety and security.
Why Clients Prefer
Paragon Landscaping Corporation
Paragon Landscaping is one of the Main Line's preferred landscape service providers. We hire only the highest level of landscaping talent, to ensure a thorough understanding of landscaping methods and designs.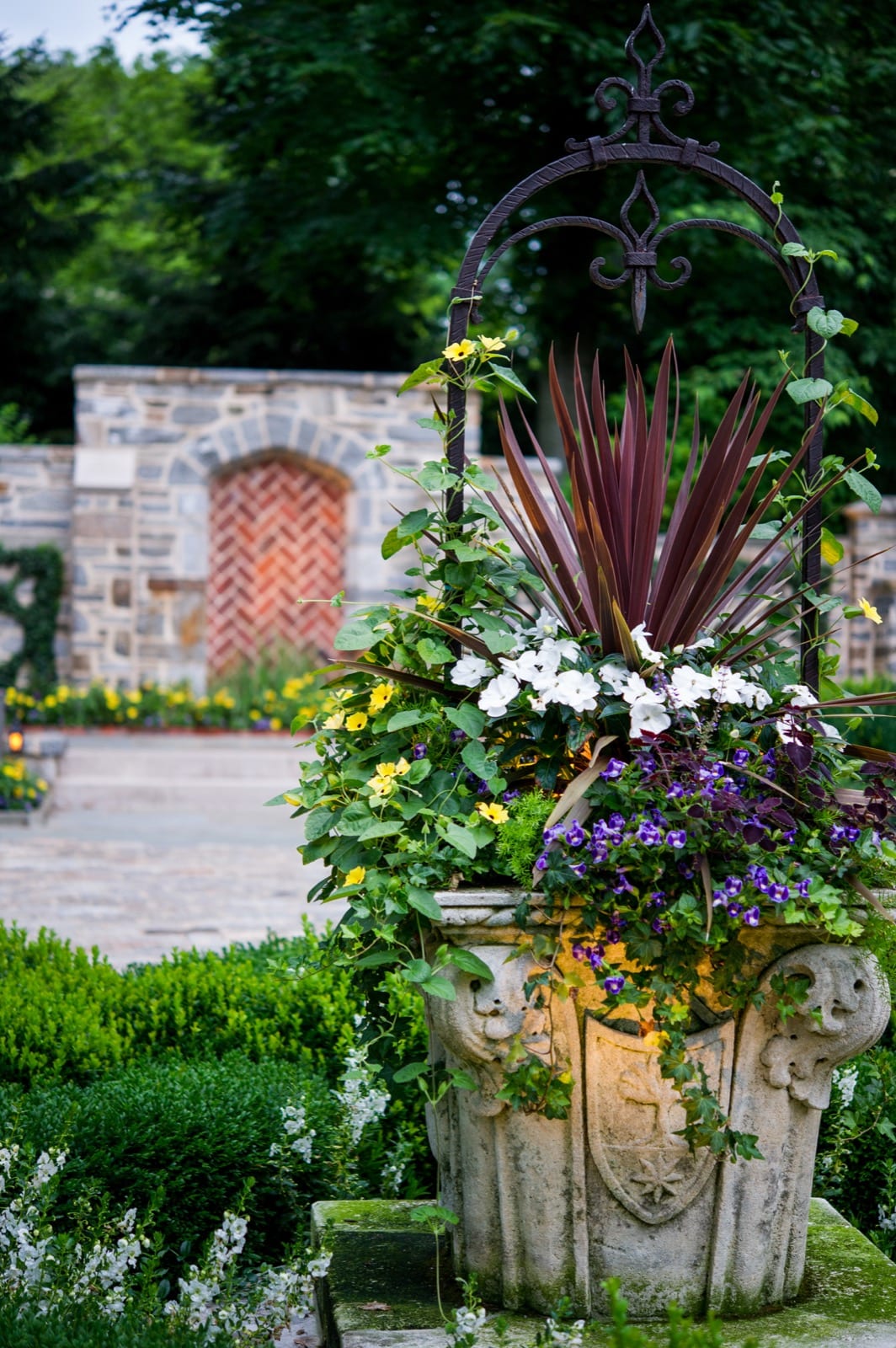 Our expert landscaping knowledge is only one of the many reasons that clients prefer Paragon. Here is a list of the additional benefits Paragon has to offer:
To view more of Paragon's refined landscape enhancements and designs, take some time to peruse our portfolio.
Beautiful Landscape Enhancements
in Villanova, Pennsylvania
Paragon Landscaping Corporation is committed to offering superior landscape enhancements as quickly and efficiently as possible. We offer streamlined processes for optimal service with the least amount of hassle for our clients. Our enhancement services are easy to request and schedule. Simply set up a contract, and we will do the rest!
Requesting seasonal planters and enhancement services from Paragon is easy:
Call us or visit our website to schedule an on-site visit.
Our representative will meet you at your home to discuss your landscape service needs.
We will provide a comprehensive landscape service proposal.
Our contract includes an in-depth explanation of services with associated costs.
Our contracts are month-to-month, with simple and straightforward invoicing.
We can start work on your landscape immediately.
At Paragon, we understand that our clients want simple contracts with minimal hassle. We help our customers avoid unnecessary complexity by offering clear and straightforward service contracts and consistent scheduling. To learn more about our seasonal enhancement services, contact us today!
Exceptional
Landscaping Services
Paragon provides a wide selection of additional landscaping services for our clients in Villanova and other Main Line communities.
To learn more about Paragon's superior professional landscape services, don't hesitate contact us today.
Villanova's Premier Landscape Maintenance Provider
Paragon is honored to provide landscaping services to many loyal clients in Villanova and Philadelphia's Main Line neighborhoods.
Our broad service area includes the following cities:
Bala Cynwyd, PA
Merion, PA
Narberth, PA
Penn Valley, PA
Wynnewood, PA
Devon, PA
Berwyn, PA
Paoli, PA
We are committed to offering a complete array of sophisticated landscape services and enhancements to clients throughout our service area. To discover the best Paragon landscaping services and products for your needs, feel free to view our services page.
With a rapidly expanding clientele in Philadelphia's Main Line and surrounding areas, Paragon Landscaping is dedicated to hiring the best landscaping professionals in the industry. If you are a knowledgeable landscaping specialist with a positive attitude and a professional demeanor, we want to hear from you. To learn about current opportunities with Paragon, visit our career page, and see how you can become a successful member of the team!
"Paragon was phenomenal to work with. They were very respectful of our time, their crews were clean, quick and did a beautiful job. Paragon's landscape maintenance services are the best on the Main Line."
— J. Smith