Lawn and Landscape Care That Captures the Precise Aesthetic of
Philadelphia's Main Line
Paragon offers exceptional maintenance services for discerning residents of Main Line neighborhoods. Our discrete and professional landscape maintenance crews put your needs first so you can count on a precisely maintained landscape, hassle-free.
Along with pristine lawns, we value professionalism at every level. All of our staff wear company-issued uniforms and all maintenance equipment is organized and transported in clean, new trucks. We use state of the art landscaping equipment and make it a point to complete our work in a timely and efficient manner.
Most important, to guarantee the highest quality service, we maintain open lines of communication so that any unexpected problems are resolved quickly and efficiently. We also keep our customers in the loop with a reminder email before each regularly scheduled service visit, so you always know when to expect us.
As a local company, we understand more than climate and soil variations--we also understand the aesthetics and charm associated with the Main Line. From design and installation to the maintenance required of professional landscaping, we'll help you manage the needs of your property and keep up with seasonal changes.
Our Extensive Service Area Covers the Main Line and Beyond
Our service area encompasses a wide range of Main Line neighborhoods and spans a significant portion of eastern Pennsylvania. We understand that established neighborhoods like those on the Main Line have their own long-standing traditions and appearances. We are committed to providing lawn and landscape services that are perfectly suited to your needs. We enjoy serving local clients who appreciate the value of quality landscaping for their own property and the neighborhood as a whole.
Review our service offerings today to learn more about our dedication to providing outstanding landscape services for our clients on the Main Line.
As a firmly established Pennsylvania company, our service area includes a number of local communities, including:
Bala Cynwyd, PA
Merion, PA
Narberth, PA
Penn Valley, PA
Wynnewood, PA
Devon, PA
Berwyn, PA
Paoli, PA
"Paragon was phenomenal to work with. They were very respectful of our time, their crews were clean, quick and did a beautiful job. Paragon's landscape maintenance services are the best on the Main Line."
— J. Smith
Value-Oriented Lawn and Landscape Services
At Paragon, we strive to provide streamlined lawn and landscaping services with exceptional quality, speed, and efficiency.
We complete every service with dependability and integrity.  All of our operations are closely managed so you never have to worry about collateral damage or mismanagement.
Landscape Design to Capture Every Vision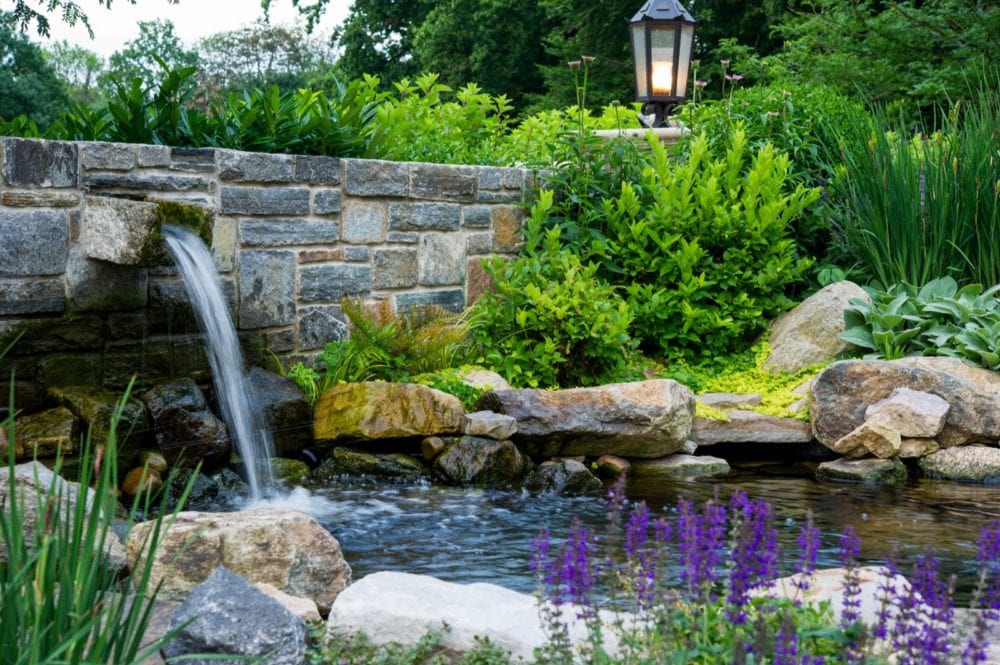 Many of our designs are created in conjunction with professional landscape architects. We collaborate closely with our clients and several landscape architects to ensure superior landscaping composition and construction. However, for smaller landscape projects, Paragon offers exceptional landscape design services to meet our clients needs. Rejuvenate old garden beds, install a privacy screen, or add a new seating area to improve your yard's functionality and aesthetics. The possibilities are endless.
Landscape Installation Brings Your Landscape to Life
Our landscaping professionals verify the high quality and scale of the material we use for all of our landscape installations. In addition to hardscaping, planting installation, and sod installation we offer large tree installation, so you won't have to wait years to see your desired landscape.
Paragon makes it a point to complete our landscape installations quickly and efficiently. Work areas are cleaned up daily, for a safe and organized job site and regular communication ensures that you are up to date on progress and expectations.
From Root to Blade, Lawn Care You Can Count On
In addition to our landscape installation and maintenance programs, Paragon provides professional lawn care, including lawn installation, fertilization, weed control, pest and disease control, aeration, and overseeding. Our knowledgeable staff will ensure that you have the right services for your properties needs. With our exceptional lawn care services, you'll enjoy a lush, healthy lawn for years to come.
Seasonal Enhancements
Paragon offers seasonal landscape enhancements that compliment your landscape's appearance. Interested in increasing the beauty of your property and complementing your home's polished exterior with seasonally-appropriate plantings? Our beautiful planting combinations will enhance your garden beds, planters, pots, and window boxes seasonally. Our rotating selection of seasonal plantings is the perfect way to add interest, beauty, and variety to your property.
Paragon Landscaping is a premier provider of superior landscaping services to the Main Line of Philadelphia. As a dynamic and growing business, we are always looking to add experienced and knowledgeable landscape professionals to our team. Visit our career page for more information on open positions.