Charming Seasonal Planters & Enhancements
by Paragon Landscaping
Enjoy each season to the fullest with unique seasonal enhancements designed to delight and enchant. At Paragon Landscaping, we offer elegant seasonal displays that combine elegant containers and accessories into stunning landscaping displays that will make your landscaping shine. With more than 20 years of experience serving a select clientele in Bryn Mawr, Pennsylvania and Philadelphia's Main Line, we know how to incorporate bright spring bulbs, delicate summer flowers, hardy fall perennials, and winter-friendly accents to enhance the beauty of your property in every season.
Paragon's personalized enhancements include seasonal planters in a variety of styles, from small pots and troughs to window and Versailles boxes, generously sized outdoor planters, and Green Walls. All of our seasonal planters are made of durable, high-quality materials, and are filled with beautiful, resilient annuals and seasonally-appropriate accents on a regular basis. To keep your property looking fresh and flawless, we establish a regular schedule for annual replacements, so you can enjoy immaculate, polished landscaping at all times.
Enjoy Professional Enhancements and Tasteful Seasonal Planters in Bryn Mawr, Pennsylvania
The expert landscapers at Paragon Landscaping understand that attention to detail is critical for a polished appearance. That's why our seasonal planters are designed to enhance the overall aesthetic of your property with stylish accents and meticulous attention to every detail. Our professional landscapers are committed to ensuring that your property looks perfect in every season without any hassle. To keep your service stress-free, we arrange all of our service visits around your schedule.
Our dedicated landscaping professionals are committed to ensuring your satisfaction in every aspect of our business. Paragon's uniformed, highly vetted staff are courteous and professional at all times, and all of our state-of-the-art landscaping equipment is transported in clean, new vehicles. In addition, each of our employees undergoes a rigorous background check, to further ensure our clients' safety and security.
Benefits of Choosing
Paragon Landscaping Corporation
Paragon Landscaping is one of the Main Line's preferred landscape service providers. We hire only the highest level of landscaping talent, to ensure a thorough understanding of landscaping methods and designs.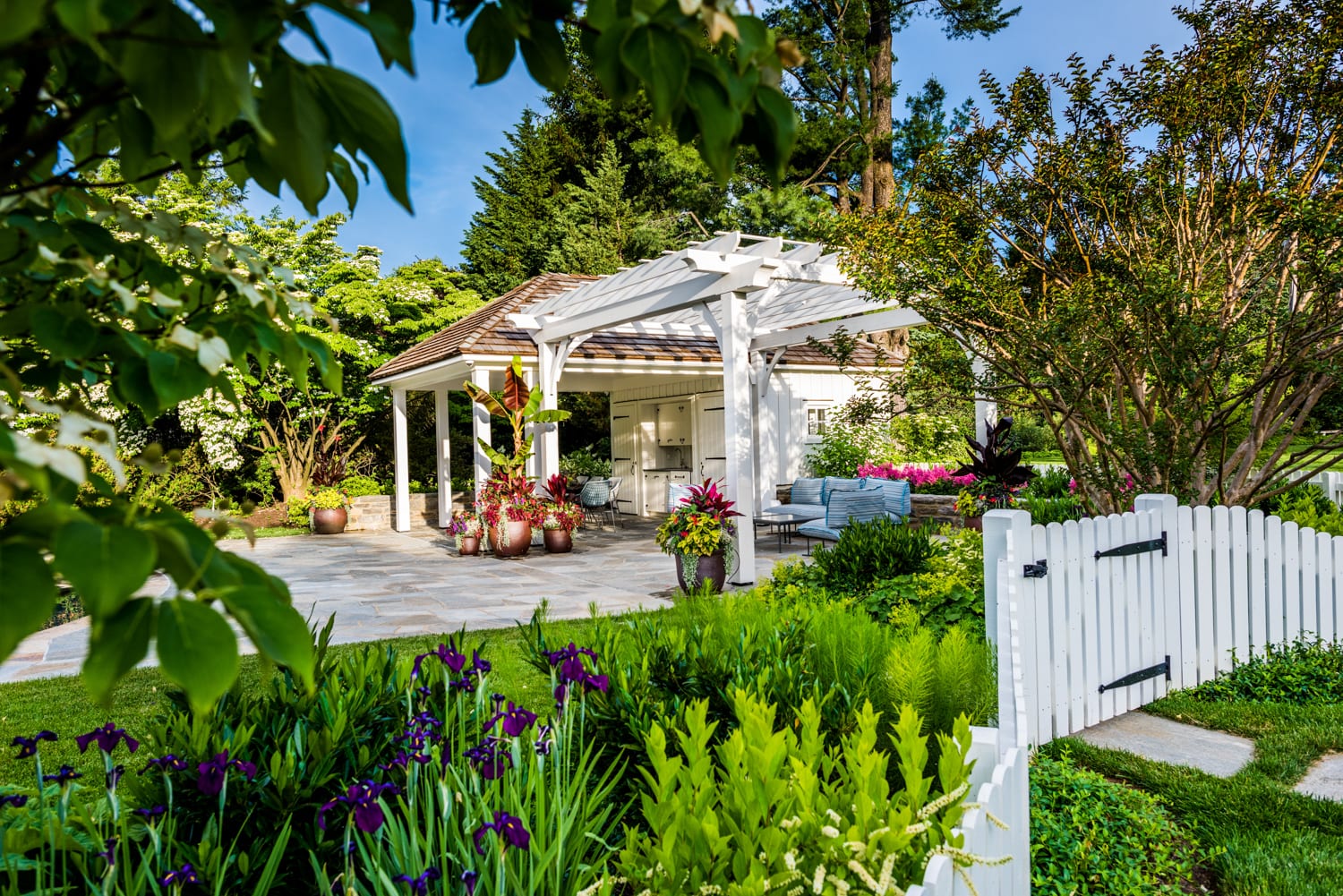 Our expert landscaping knowledge is only one of the many reasons that clients prefer Paragon. Here is a list of the additional benefits Paragon has to offer:
Our Exceptional Landscaping on Display
To view more of Paragon's refined landscape enhancements and designs, take some time to peruse our portfolio.
Elegant Seasonal Enhancements in Bryn Mawr, PA and the Main Line
Paragon Landscaping Corporation is committed to ensuring our clients' satisfaction with speedy and efficient seasonal planters and enhancement services. With more than two decades serving customers in Bryn Mawr, PA and the surrounding areas, we have streamlined all of our processes to ensure maximum service value with minimum complications. To request our seasonal planters and enhancement services, simply reach out to our office for a quick consult. Setting up your seasonal enhancement services from Paragon only takes a few easy steps:
Call us or visit our website to schedule an on-site visit.
Our representative will meet you at your home to discuss your landscape service needs.
We will provide a comprehensive landscape service proposal.
Our contract includes an in-depth explanation of services with associated costs.
Our contracts are month-to-month, with simple and straightforward invoicing.
We can start work on your landscape immediately.
At Paragon, we know that a simple contract is better, which is why all our contract terms are concise and straightforward. Without add-ons or subcontracting, our clients can rest assured that they know exactly what they are getting. To learn more about our quality seasonal planters and enhancement services, contact us today!
Our Additional
Landscaping Services
Paragon offers a variety of additional landscaping services for our clients in Bryn Mawr, Pennsylvania and Philadelphia's Main Line.
To learn more about Paragon's superior professional landscape services, don't hesitate contact us today.
Bryn Mawr's Premier Landscape Service Provider
Paragon is honored to provide landscaping services to many loyal clients in Villanova and Philadelphia's Main Line neighborhoods.
Our broad service area includes the following cities:
Bala Cynwyd, PA
Merion, PA
Narberth, PA
Penn Valley, PA
Wynnewood, PA
Devon, PA
Berwyn, PA
Paoli, PA
We are committed to offering a complete array of sophisticated landscape services and enhancements to clients throughout our service area. To discover the best Paragon landscaping services and products for your needs, feel free to view our services page.
Join the Paragon
Landscaping Team
With a rapidly expanding clientele in Philadelphia's Main Line and surrounding areas, Paragon Landscaping is dedicated to hiring the best landscaping professionals in the industry. If you are a knowledgeable landscaping specialist with a positive attitude and a professional demeanor, we want to hear from you. To learn about current opportunities with Paragon, visit our career page, and see how you can become a successful member of the team!
"Paragon was phenomenal to work with. They were very respectful of our time, their crews were clean, quick and did a beautiful job. Paragon's landscape maintenance services are the best on the Main Line."
— J. Smith