Beautiful Seasonal Enhancements for
Your Gladwyne, Pennsylvania Property
Celebrate the season with creatively designed seasonal enhancements for a unique and tasteful accent to your landscaping. Paragon Landscaping works to design and install uniquely elegant seasonal landscape displays in assorted containers and landscape beds. Our in-depth understanding of local landscaping requirements lets us create singular appeal using a wide variety of seasonal plant material for your landscape beds and containers. We provide spring flowers and bulbs, colorful summer plantings, warm fall combinations, charming winter evergreen arrangements and holiday displays for your enjoyment.
Paragon's seasonal enhancements can incorporate numerous styles and designs, including landscape beds, small pots, troughs, window boxes, Versailles boxes, large outdoor planters, and even Green Walls. We make it a point to use the best quality material, for resilient and fresh enhancements year-round. To ensure a polished appearance, we will replace and refresh annuals as often as you like on a pre-arranged schedule. Our seasonal enhancement services will help maintain your landscape's refined look with no effort on your part.
Unique & Elegant Seasonal
Enhancements From Paragon
At Paragon, we know that appearance can have a great effect on the appeal of a property. Our seasonal enhancements are specially designed to bring seasonal interest to your landscaping by improving the overall appearance of your home. With a highly knowledgeable and professional staff of landscaping specialists, we ensure quick and detailed installation and refreshment of your landscaping enhancements without any hassle. Our visits are scheduled around our clients so that all seasonal enhancement installations have minimal effect on our clients' daily lives.
Paragon is dedicated to providing professional service at all levels. All of our staff are uniformed and maintain a professional demeanor at all times. Our top of the line landscaping equipment is well organized and transported in clean, new vehicles. Additionally, our employees are subject to rigorous background screening, to further ensure the safety and security of our clients.
Benefits of Choosing
Paragon Landscaping Corporation
Paragon Landscaping is a preferred provider of high-end landscaping services for our clients in Gladwyne, Pennsylvania and the Main Line. Our team includes only the most experienced and knowledgeable landscape specialists, with an in-depth understanding of horticultural principles and landscape design.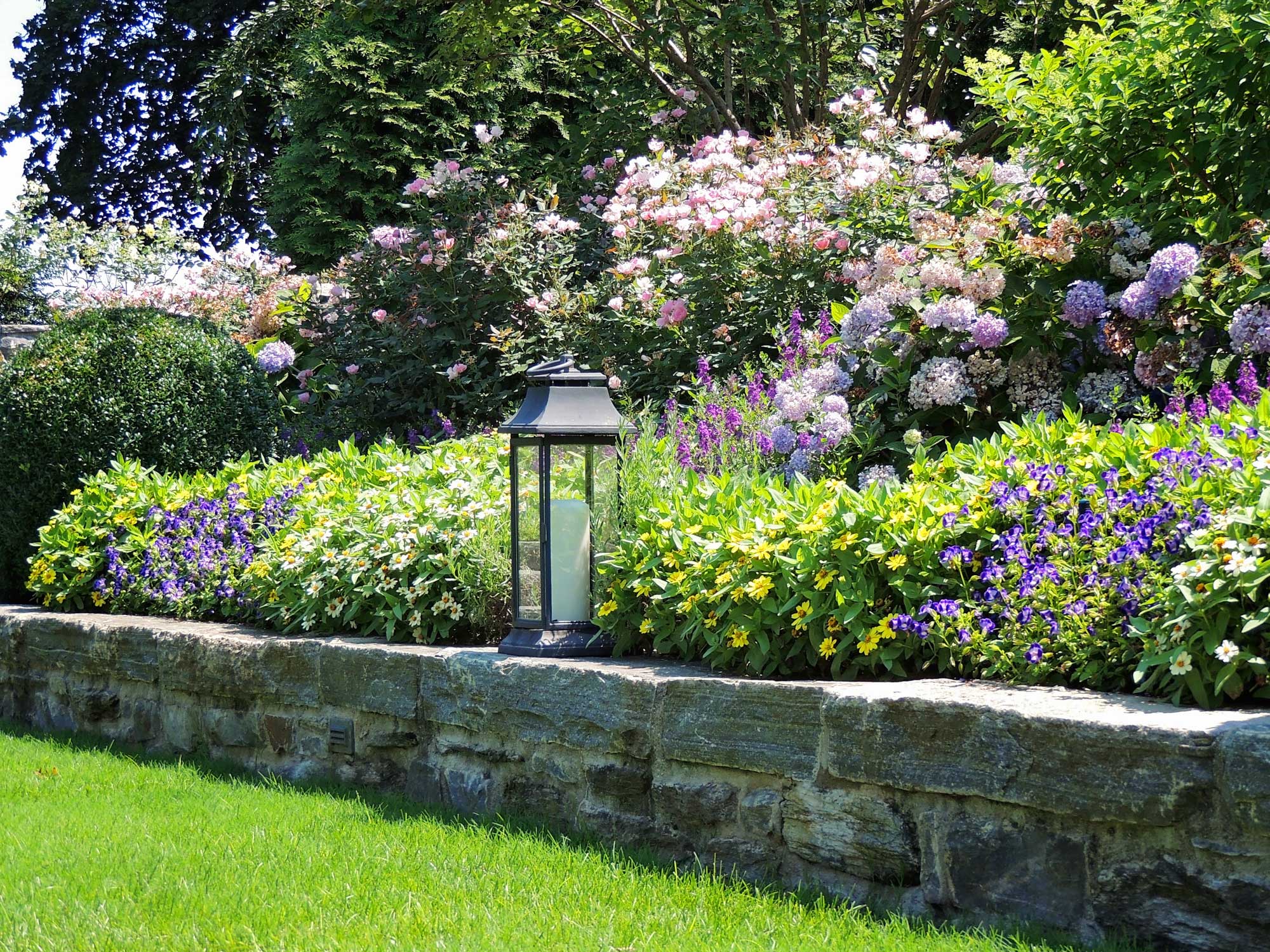 Our highly trained and vetted staff is only one of the reasons that our clients choose Paragon. Other advantages of our professional services include:
To see more of Paragon's elegant landscape enhancements and designs, visit our portfolio.
Charming Seasonal Enhancements
for Gladwyne, Pennsylvania
Paragon Landscaping Corporation is dedicated to providing swift and efficient seasonal enhancement services with the utmost convenience for our clients. With over 20 years of experience, we have streamlined all of our processes to ensure maximum service value with minimum complications. In order to request seasonal enhancements, simply tell us what you need, and we will take care of the rest.
To set up your seasonal enhancement services from Paragon simply follow these steps:
Call us or visit our website to schedule an on-site visit.
Our representative will meet you at your home to discuss your landscape service needs.
We will provide a comprehensive landscape service proposal.
Our contract includes an in-depth explanation of services with associated costs.
Our contracts are month-to-month, with simple and straightforward invoicing.
We can start work on your landscape immediately.
Paragon understands that a simple contract is better. All of our contract terms are concise and straightforward, without add-ons or subcontracting, so our clients know exactly what they are getting. To learn more about our superior seasonal enhancement services, contact us today!
Valuable
Landscaping Services
Paragon offers a variety of additional landscaping services for our clients in Gladwyne and other communities on the Main Line.
For more details on Paragon's professional landscape service offerings, feel free to contact us any time.
Gladwyne, Pennsylvania's Preferred
Landscape Maintenance Provider
Paragon is a proud provider of high-end landscaping services to loyal clients in Gladwyne, PA and throughout Philadelphia's Main Line.
Our extensive service area includes the following cities:
Bala Cynwyd, PA
Merion, PA
Narberth, PA
Penn Valley, PA
Wynnewood, PA
Devon, PA
Berwyn, PA
Paoli, PA
We are committed to offering a full range of quality landscape services and seasonal enhancements to all clients within our service area. To find the perfect Paragon landscaping services for you, visit our services page.
Join the Paragon
Landscaping Team
Paragon Landscaping Corporation is a fast-growing, highly professional landscaping company. With an ever-growing list of discerning clientele, we are always looking for more top talent on our team. If you are an experienced landscaping professional with a can-do attitude and the drive to succeed, you are just what we need. Visit our career page to learn about our current job opportunities.
"Paragon was phenomenal to work with. They were very respectful of our time, their crews were clean, quick and did a beautiful job. Paragon's landscape maintenance services are the best on the Main Line."
— J. Smith